One of the biggest parts of college that no one tells you about? Emailing. All of the emails. As you've already learned this summer, Cornell email accounts are a HUGE part of communication and information  on campus. Things move fast at Cornell and email is no different. On Cornell campus, you will be involved in a lot and as such, you'll be on a lot of mailing lists. There will be club meeting reminders, emails from your RA, campus news, a line of communication with classmates, and essential emails from your professor. Sometimes, you're going to need to hit reply on some pretty important emails. To act as your Jedi-email master in this  art of emailing a professor is Chris Machold, a PA in the class of 2016, whose Jedi skills of emailing a professor he now imparts to you.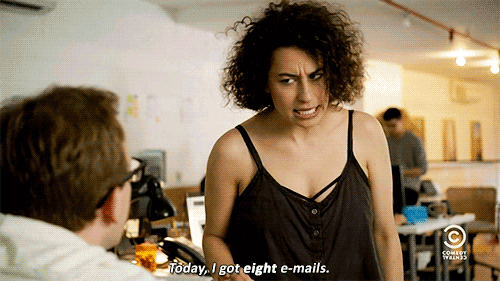 Transitioning from communication with high school teachers to liberal arts college professors can be an unexpectedly intimidating venture: Your junior year history teacher might have been funny and engaging during breaks and pretty knowledgeable in the classroom, but your First Block professor is going to be one of the preeminent scholars in their field and a whole lot more qualified. And while you've undoubtedly spoken with various teachers in and out of the classroom during your four years of high school, you've probably sent no more than an email or two to any instructor at any level. Even granting that this level may be higher now than it was even three years ago when I graduated from high school, you will definitely communicate more frequently and about more important topics with your professors at Cornell than you ever did in high school.
Within your first week at Cornell, you will meet both your academic advisor and the professor of your First Year Seminar. And while you may not need something immediately, you will be in immediate email contact with both of them. As your Cornell College experience evolves and the years go on, you will have communicated via email with dozens of professors about dozens of topics from turning in essays and sick days to letters of recommendation and application advice. Make no mistake, both college students and professors are distinctly and hilariously awkward people – something cinema has depicted pretty accurately – and to successfully carry out an electronic dialogue with them is no small task. For that reason, Class of 2019, emailing a professor successfully is a veritable form of art:
Be yourself. Under their 1990's tweed blazers and hiking shoes, professors are real people – I promise. While formality is good and it's important to understand how to format an email, you don't have to take every email as an opportunity to show off your
college-level vocabulary. Natural, friendly dialogue is the name of the game. And as you get to know your professors, even the formality may melt away.
Get to the point. In addition to their duties as a professor, every member of our faculty has a family life. Rather than sending three paragraphs of exposition, a friendly greeting followed by your request will go a long way toward establishing successful email etiquette.
Take cues. Some professors will be very formal, while others will respond with a one-line statement devoid of periods or capitalization. Especially if this is your advisor or a professor you will be in frequent email contact with, taking note of how they respond provides clues for future conversations.
Please, say thank you. The day will come when you have to ask a professor to do something significant on your behalf – e.g., a letter of recommendation, help with research, pointers on independent study, or perhaps extra help on a particularly difficult homework assignment – and when this happens, by all means express appreciation before and/or after the inevitable response. In my experience professors at Cornell are tremendously willing to help, especially if you ask with the "peas and carrots".
Respond quickly! You may have heard of a mysterious force present in everything that happens at this college. It goes by many names – OCAAT, the Block Plan, the Greatest thing Ever – and it is crucial that you play by its rules. We tour guides are fond of saying that while operating within OCAAT you complete a week's worth of work in a day, and you will soon become acquainted with "Cornell Time"; that is, that your perception of daily events at Cornell becomes ruled not by normal measurements of time but rather this new metric only perceptible to college students in Mount Vernon, IA. If you respond to an email two days after you get it, a lot has come to pass. Be timely, and they are more likely to follow suit – nothing irks one more than having to wait a week for an important response.
Be patient. It seems like a contradiction to recommend this following number five, but it's crucial. Sometimes a professor will email you back four minutes after your initial message, and sometimes it will be days before you hear anything back. But you can:
Follow up. If it has been days and the topic of your email is urgent, remind your professor verbally or send a polite follow-up email. Sometimes she'll have read your message and just forgot to add her response. Or perhaps she genuinely has not had time –either way, with proper email etiquette there is no harm in a follow-up.
As I said earlier, professors are fundamentally normal (sort of). As such, no exact model is going to work for every professor. But maintaining this sort of courteous dialogue with them will go a long way toward forging a relationship with them that is more akin to colleague-to-colleague than mentor-to-student. And that's awesome!
With these skills and the amount of communication on campus, you'll soon be well on your way to mastering the art of email. In addition to these tips, remember the basics: be patient, be polite, and please, no emojis or acronyms, k? U don't want 2 b a lol-stock [laughing stock]. Let the post image be a guide of What Not To Type. 
The gif after the introduction to first years and non-Cornellians may seem serious, as you've probably gone a long time to receive 8 emails that merit attention. Those used to Cornell email will find it laughable. Over lunch sometimes, my friends and I would compare the number of emails we'd sent so far in the block and how many "unread emails" piled up over the course of lunch. The sheer number of emails at Cornell may be daunting at first: learn from it! Read over the emails and see what a well written email looks like. Remember to reread an email before you send it–it may save you some embarrassment and if you're worried, ask a friend to read over it. "Life editors" (a term for a friend you trust to edit emails, resumes, etc.) are important to have.  Be your own life editor first and when in doubt, ask a trusted friend (with a good sense of writing!) to read it over. 
Best,
Chris and Laura
Cornell College
Class of 2016
Emailing Jedis Extraordinaire